Being part of the community for a while now, I had been toying with the idea of using Ren'Py to create a weight-gain focused dating sim. I figured it would be nice to have a story-rich game where you could choose between different characters to date, while also having mid-speed progression between weight stages (somewhere between being realistic but not too grindy).
That idea has slowly developed into Thicker Treat: a game where you can woo and romance 8 different love interests (with 1-2 more planned).
Summary of Main Characters:


Georgina Lavola: A busy fast-food heiress opening a fine-dining restaurant in town.
Patrizia Rizzo: An uptight PR manager obsessed with social media growth.
Dolores Utreras: A flirty coworker with an intense-partying lifestyle.
Sakura Ling-Armstrong: The Twitch streamer next door (looking for new records and sponsors),
Eudora Nash: Your brainy former best friend (and college crush).
Wanda Reinhart: A competitive athlete looking for a new coach (and diet).
Gabrielle Rubens: A talented but undiscovered baker trying to put her pastries on the map.

Delilah Silas: Your lavish and hedonist boss.
---
v.1.2. the proof of concept (an introduction to the characters and the world) is publicly available on Patreon, here., and itchio, here.
v.0.2.0 is out now and available to patrons.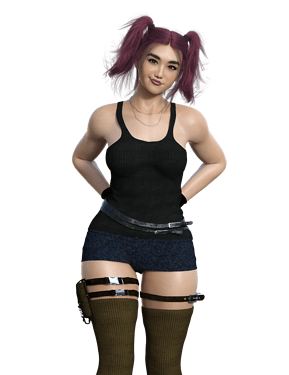 Small update: Georgina got the most votes in the Patreon poll and Sakura did so in the forum, so I'll focus on building their stories/dates for the June build. (If everything goes as planned, G's WG scene will be available in that update as well.)
I hope you guys enjoy the game and do let me know if you find any bugs along the way.