Are there restrictions on joining? I recently had to re-make my account so I'm not sure if I am eligible…
There are no restrictions to joining. It's open to all who wish to participate.
Alright, this sounds cool. I missed the first one, so I hope to make it to this one!
Oh heck yeah! I feel like I might be able to contribute a good game for this one! I have been looking around these forums for so long and I really think I can make something cool!
This sounds cool, is there a forum for people looking for group?
Unfortunately no but adding a subcategory for that might not be a bad idea. I'll discuss it with the other admins and mods but for right now your best bet would be general.
Quick question, because I'm just making sure; how nsfw can your submission be? I'm not planning on making Brazzars-level porn or anything, but I wasn't sure if it needed to stay at least mostly sfw.
Due to the nature of the site there are no restrictions on nsfw content as long as it is legal in the US. Submission can be as sfw or as nsfw as the dev wants them to be.
So in short, yes nsfw submissions are allowed.
The theme has been announced! You can find it at the top of the post or here:
Who where last year's winner, and with what games?
Hey I was wondering if it was okay for the game's story to have fantasy elements. Like magic and potions and stuff? I want to stick to the theme of workspace but with the kind of expansion I want, fantastical elements are kind of necessary so is it still eligible for the contest?
Ya you can go use fantasy elements, nothing says it has to be modern. We dont restrict the context, just make sure the game centers around something that is business or work related in nature. Otherwise you can dress it up any way you want
I love how quick and reliable you guys. Thanks for the info!
Oh god oh boy I have finished my but I don't know how to post it FUUUUUCK!
Go to Categories, then at the bottom the 2nd. Annual Fat Fortnight 7/2019, click on that.
Then in the upper right corner should be a plus. That's how you make a topic. Click on that, write your stuff and upload your game to a download provider, post the link and you're good to go.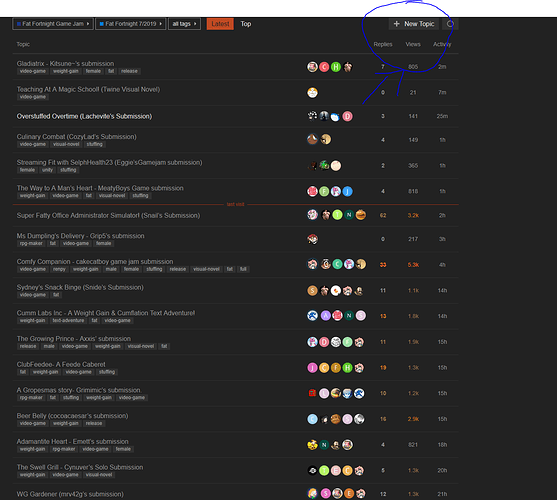 You're the best although I figured it out before it. But thank you so much!