https://drive.google.com/file/d/1KfBTXjVvP8s4pq1zhHww7yC_U1UxgvjN/view?usp=sharing
fixed version no more geting stuck and visible (you got hit!) effect : https://drive.google.com/open?id=1wsHeHtQlfLlgx32LFDfU3QLpqcoF7iYL
A lone soul, lost between world,
stuck here in it's darkest sour.
The grim sweetner told her,
how to reverse her end, so bitter.
Go to my realm,
feast with no ends,
on my magical sweets.
But beware the second death,
for it is not neat,
and your mass he shall mess!
Here is a game similar to binding of isaac, with an attempt at drawing all the art assets!
Visuals
All the art include drawing, scanning, croping, adding to the game and making sure that its scaled well. But alas if i had more time i would have improved the assets by making actual animations.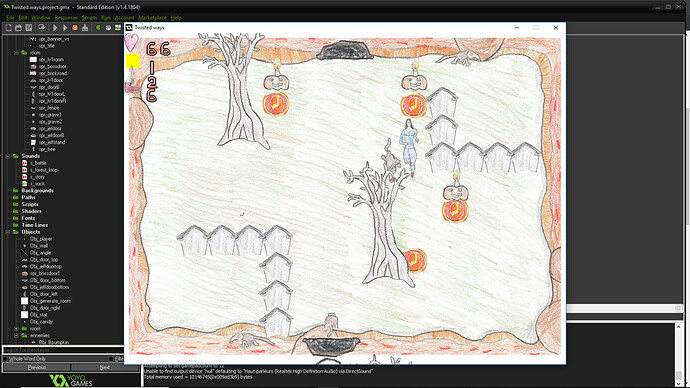 gameplay
go around, fight creepy crawlies, eat small candies for mass (full heal, more damage and sprite change)
Or use one of the multiple(15) special candies of the grim sweetner for a stat boost or maybe an attack modifier! At the end stands the boss, ready to eat you whole!
Have fun!